:::
KFF International Short Film Competition announces 43 selected international shorts, 20 selected Taiwanese shorts
The inaugural Taiwan Technology X Culture Expo (TTXC) to be held in Kaohsiung is an initiative of the Ministry of Culture. Created in collaboration with the Kaohsiung City Government and the Ministry of Digital Affairs, it will usher in new cultural and technological brands in the realms of film, music, industry, and parties. As one of the main events of the TTXC, the Kaohsiung Film Festival (KFF) will be unveiled on October 7th (Sat.).
On August 29th, the list of nominees for the KFF International Short Film Competition was announced. Of the 2,260 outstanding short films received from 91 countries around the world, 43 international short films and 20 Taiwanese short films were ultimately chosen to compete for awards such as Golden Fireball Award, Formosa Human Rights Award, and Asian New Wave Award, with a total prize pool exceeding 1 million TWD.
According to the Minister of Culture SHIH Che, film is a medium that is closely linked to technological development. In the information explosion era, what people seek is brevity and speed. From the "micro movies" discussed in the past to the "short videos" of the present, we are able to observe people's changing attitudes toward film. For years, the KFF has  been focusing on short films and is now playing a pivotal role in the promotion of Taiwan's cultural content. The city of Kaohsiung is also an indispensable partner of the "Cultural Kuroshio Current" plan.
The mayor of Kaohsiung CHEN Chi-mai said he hopes the TTXC can explore more possibilities in the culture, technology, TV, film and music industries from a southern perspective, while also bringing more capacity for digital entertainment development to Kaohsiung. As one of Taiwan's three major film festivals, the KFF has developed a strong reputation in southern Taiwan over the years. The core aim of the Ministry of Culture's "Cultural Kuroshio Current" plan is to promote Taiwan's cultural content, and during the TTXC, the KFF will showcase a fresh new creative vision different from the past.
This year's selected short films include those also being selected or winning  awards at Cannes, Berlinale or Venice. The International Shorts lineup is especially dazzling and features the extraordinary works such as Last Call, directed by Tom HOLLAND's younger brother Harry HOLLAND; III, directed by Salomé VILLENEUVE, daughter of the filmmaker of Dune Denis VILLENEUVE; and All Tomorrow's Parties directed by the Chinese filmmaker ZHANG Dalei and starring ZHOU Xun and WANG Yibo, a time-bending journey through nostalgia for old-time cinemas. 
The Taiwan Shorts lineup includes Compound Eyes of Tropical, winner of the Golden Horse Award for Best Animated Short Film; Ghost of the Dark Path, the new animated work from Fish WANG; and Ruei's Deer World by director An CHU, who won Taiwan Student Award at last year's KFF. Many of the selected shorts are making their world and international premieres at KFF. The winners will later be awarded at the ceremony on October 15th (Sun.)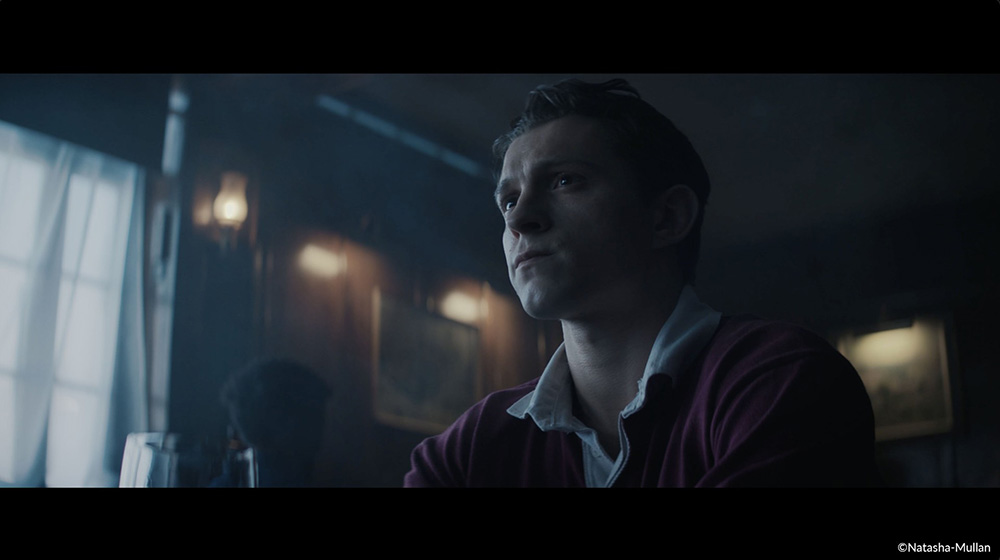 Harry HOLLAND and Salomé VILLENEUVE make directorial debuts at KFF
Directed by Harry HOLLAND, Last Call explores reconnection and forgiveness between a mother and a son, portrayed respectively by veteran Scottish actress Lindsay DUNCAN and the director's older brother Tom HOLLAND. This profound portrayal of the pain of loss will be making its Asia premiere at this year's KFF after the film received much acclaim when it made its world premiere at the Tribeca Film Festival earlier this year.
Another emerging talent, Salomé VILLENEUVE, daughter of Denis VILLENEUVE, made her directorial debut with III, which competed in this year's Horizon's competition at the Venice International Film Festival. At 27 years old, she uses her film to explore three siblings' first encounter with death, delving into that delicate balance of cruelty and sincerity when children are confronted by nature, adorned with poetic imagery that showcases the potential of a future star.
Chinese director ZHANG Dalei, whose feature debut, The Summer is Gone, won the Golden Horse Award for Best Feature Film, presents his short film All Tomorrow's Parties. Starring Golden Horse winner ZHOU Xun and popular actor WANG Yibo, this short film revisits daily life in the 1990s China, and through the perspectives of two cinema employees, weaves a portrait of chance encounters at the movies. With a nostalgic and realistic style, the film, which was selected to Berlinale Shorts 2023, transcends time and space to admire the French New Wave and old movie theaters. Fellow Chinese director XIAO Junyi's new animated short Tomato Kitchen reveals a story of coping with authoritarian rule, laden with satire and powerful impact. It is dedicated to all those who around the world have been "integrated" into society.
International & Asian premieres shine spotlight on emerging global talents
The films making their international premieres at the KFF International Short Film Competition include the South Korean short Other Life, which uses realism, precise dialogues, and a closed setting to shape a gripping depiction of ugly interpersonal relationships; and the Argentine short At Last, the Day, which portrays the breakdown of motherhood through the postpartum depression of two mothers. The film's unconventional yet sincere discussion of a taboo subject reflects issues such as income inequality and youth underachievement in Argentina.
Love Has Nothing to Do with It, an Israeli short, delves into the complexities of family and morality through the lens of a suspected sexual assault during a school trip. It is a film that carries shades of Danish auteur Thomas VINTERBERG; The Train of Joy, a Spanish short that tests the boundaries of physical and mental endurance in the vein of Whiplash, revealing the oppressive pressure that can permeate an acting class; and the British short A Day in February, an intimate portrayal of the anxiety experienced by a female Polish worker. The overwhelming fear she displays during the seven minutes of non-stop calls to her family in Ukraine is challenging to watch.
The Croatian animated short Republika showcases a magnificent and opulent world, offering breathtaking visuals and a satirical twist on Plato's Republic; the Belgian short The Passerby combines live-action and animation, using continuous running scene as a visual motif to delve into an inner dialogue of profound soul-searching; in the American short Ur Heinous Habit, the director explores themes of shame and taboo in daily life after receiving a blackmail email, shaping a new kind of animated documentary; and the Hungarian documentary short Budapest Silo captures the moments of tranquility in a man's life as he navigates the endless melancholy between dreams and reality.
Cannes and Berlinale selections feature in KFF International Short Film Competition
Many films of the 23rd edition of the KFF International Short Film Competition have already been selected to major international festivals. The Luxembourg short The Red Suitcase, nominated for Best Live Action Short Film at the Academy Awards, is directed by an Iranian filmmaker currently residing in Luxembourg and depicts the struggles of Iranian women in their pursuit of freedom. Audiences will be on the edge of their seats in suspense over the fate of the Iranian girl portrayed in the film. The Icelandic short, FÁR, which received a Special Mention at Cannes, juxtaposes women in the workplace with euthanasia to reflect on communication challenges arising from gender, class, and generational differences in today's online discourse culture. Another Cannes selection is the Norwegian short TITS, shot on a handheld camera with weathered 16mm film, which captures magical moments of youth along the Nordic coastline.
Several International Shorts selections also made their way into Berlinale this year, including Waking Up in Silence, which won Best Short Film in the Generation Kplus section. This deeply moving film focuses on the daily lives of Ukrainian children in a German refugee camp, reflecting on the recurring human tragedies of World War II and the Russo-Ukrainian War, as well as the enduring innocence and naivety of children; Infantry, winner of the Special Prize for Best Short Film in the Generation 14plus section, is directed by a Brazilian filmmaker and delves into the "matrilineal society" families near the Amazon marshes. It is a captivating family drama intertwined with a touch of magical realism; and the animated short A Kind of Testament, which revolves around the theme of "identity theft" on social media and explores female body horror and enigmatic visuals through a thriller genre framework.
Other films also selected to Berlinale include the German narrative short Catching Birds, which depicts a young wrestling team through intimate handheld shots, capturing the ever-changing glances and physical contact between a girl and a boy; A Woman in Makueni, co-directed by two Russian women living abroad, which explores the underprivileged in Africa and uses magical realism to portray human nature; and the British experimental documentary Jill, Uncredited, which revolves around background actor Jill GOLDSTON, and through meticulous research, guides the audience through the countless fleeting scenes of her career, imbuing her acting journey with new meaning.
The Turkish short Things Unheard Of, which received a Special Mention at the Clermont-Ferrand International Short Film Festival, is a Kurdish fantasy portraying a young girl's imagination under a government television ban, and the things in life that cannot be put into words. Also selected to compete at Clermont-Ferrand include On My Father's Grave, which focuses on female oppression and reveals how, due to religious customs, Moroccan women are deprived of the right to mourn their loved ones; and the French short Men of the Night, which ventures into the jungles of Borneo to explore the connection that humans and primates have had over centuries. Nominated for Best Short at the Annecy International Animated Film Festival, The Smile tells the story of Rotterdam Zoo's star crocodile, who escapes and unexpectedly becomes a popular screen villain but also loses his charming smile over an accusation.
Emerging Southeast Asian talents charge into KFF; Philippines and Singapore impress
This year's International Short Film Competition features several works from Southeast Asia, including four outstanding shorts from the Philippines: HITO, which was also selected to Berlinale, presents a dystopian world with a vibrant style reminiscent of Japanese video games, and tells a local sci-fi fable about video surveillance; Cross My Heart and Hope to Die, which made its way to the Venice International Film Festival, depicts a suspenseful love story that ultimately switches to dark humor and takes an unexpected turn that leaves a lasting impression; Luzonensis Osteoporosis, a fantastical and romantic journey that explores questions of identity between prehistoric and modern civilization; and The River That Never Ends, making its international premiere at KFF, a portrayal of the ever-evolving self-discovery of transgender individuals amid a lonely urban landscape.
From Singapore, there is Mountain Land: A Celebration, the experimental new work from Kris ONG, who previously earned a Golden Horse Award nomination for Best Original Screenplay for Ajoomma. The short film crafts a fictional island ethnography through the language of fantasy, whispered narration, and exquisite prose. It was also selected to Clermont-Ferrand and will be making its Asia premiere at KFF.
Intense competition among 20 Taiwanese shorts; emerging directors shine
Taiwanese short films are surging, with quite a few making their world or international premieres at KFF this year. These include Ruei's Deer World, the new film from director An CHU, winner of the Sundance Film Festival Asia Short Film Competition and Taiwan Student Award at KFF for Tuo Tuo last year. This new work returns to the deer farm, giving audiences a look into how young Ruei deals with death; The Chronicles of a Garden, the experimental new work from WU Chun-hui, a former winner of the Taipei Film Award for Best Experimental Film, which captivatingly explores the imagination and desires between humans, nature and men; and Eggs, directed by CHONG Saito and selected to Hong Kong's Fresh Wave International Short Film Festival, which uses the lens to capture the tragic lives of illegal migrant workers, metaphorically portraying their fate through stink bugs and bug eggs.
This year's KFF has assembled many exquisite Taiwanese animated shorts. Fish WANG, who continues to earn global acclaim for his VR film Red Tail, is back with the new animated short Ghost of the Dark Path. Featuring the voices of HUANG Hsin-yao, YEE Chih-yen and Fion FU, the film portrays the experiences of Shi Shuifang, a courageous woman from an underground organization who stood up for her beliefs during the White Terror Era. Compound Eyes of Tropical, winner of the Golden Horse Award for Best Animated Short Film, is an adaptation of the Southeast Asian folktale "The Mousedeer Crossing the River". The film employs unique paper-craft techniques to create an enchanting "compound eyes" world with visual magic.
Also in competition are two films made with the support of Kaohsiung Shorts, The Egret River and A Night with Moosina, both of which showcase exceptional animation techniques. The former recently won Best Animation at the Taipei Film Awards, and the latter won Best Animation Film at the Golden Harvest Awards. Lastly, The Nomadic Tomb, which received a Special Mention in the Animation category at the Youth Film Festival, explores the tranquility of death through a traditional ink wash painting animation style.
HIStory 2 actor CHANG Che-ming's directorial debut explores young love
Several narrative shorts that have screened at major festivals are also in competition at KFF this year. Bubbling, selected to compete at Short Shorts Film Festival & Asia, is written, directed by and stars CHANG Che-ming, best known for his performance in the BL web drama series HIStory 2. The short film, which delicately portrays the curious feelings between two teenage boys, will be making its Taiwan premiere at KFF. Big Day, which won Best Short Film at the Taipei Film Awards and stars award-winning actors YU An-shun and PAN Li-li, depicts the melancholy of a long-married couple who have lost their spark. Supported by Kaohsiung Shorts, There's No Sex, Only Fans is directed by TING Chi-wen and portrays an absurd yet thought-provoking online hookup with a strong sense of reality and voyeurism, offering a reflection on what is real and fake in the internet age.
There is also no shortage of brilliance among this year's documentary and experimental shorts. Hearing from the Dolphins, winner of Best Documentary at the Golden Harvest Awards, chronicles the many years veterinarian YANG Wei-cheng has dedicated to studying the pathology and sounds of whales and dolphins. The Golden Harvest Award-nominated Lust of Life explores whether "sex" can be viewed with reason, objectivity, and devoid of obscenity. Director Adiong LU, whose short The Boy Q competed at the KFF International Short Film Competition in 2021, presents his new experimental film, Again the Ants Reincarnate, which depicts a remote mountain cemetery near metropolitan Taipei. Filmmaker CHEN Fei-hao returns to southern Taiwan in his artistically beautiful new work, The Night Mist at the Harbor, through which he reflects on Taiwan's culturally diverse perspectives.
The KFF International Short Film Competition is also a stage for student filmmakers to showcase their talents and compete for Taiwan Student Award. Before the Military Drill, which won the Special Jury Prize at the Golden Harvest Awards, is directed by WANG Chun-wei and features new-generation stars Joseph HUANG and Iris HU portraying the sense of isolation experienced by new immigrants in Taiwan; Sister, which is directed by WU Zi-yun and also won the Special Jury Prize at the Golden Harvest Awards, explores the deep bond and conflicts between sisters; Landing Countdown is the new experimental work by DAI Wei, a previous recipient of KFF's Taiwan Student Award, and follows a young worker's journey through the urban jungle; Beats Per Minute, the new work by LIN Guan-chen, similarly unfolds in the city streets and captures the bittersweet flirtations of youth; and When the Wind Rises, directed by Hung CHEN, employs a fixed camera to capture the confrontation between west coast fishermen and a petrochemical company.
Jointly presented by the Ministry of Culture and Kaohsiung City Government, the Taiwan Technology X Culture Expo will take place in Kaohsiung from October 7th to October 22nd. An integral part of this grand event is KFF's XR Dreamland, which serves as an important demonstration of Kaohsiung's cultural and technological achievements.
The Kaohsiung Film Festival will be held from October 7th (Sat.) to October 22nd (Sun.) across various locations, including Kaohsiung Public Main Library, Kaohsiung Film Archive, Neiwei Arts Center, VR Film Lab, and Kaohsiung Music Center. The KFF pre-sale event and festival programme guide will be held on September 16th (Sat.), with festival tickets officially available for purchase from 12 noon on September 17th (Sun.) through the OPENTIX platform. The award winners of the KFF International Short Film Competition will be announced at the awards ceremony on October 15th. For more information, please visit Kaohsiung Film Festival's official website  (www.kff.tw), Instagram, and Facebook.